CAT ADVANSYS
ADVANSYS 70-230 TIPS AND ADAPTERS ARE BUILT SPECIFICALLY FOR DEMANDING HIGH PRODUCTION APPLICATIONS, SHIFT AFTER SHIFT.
---
THE HIGHEST STANDARD IN HAMMERLESS GET
Optimize the performance of your 924-994 wheel loader or 311-390 hydraulic excavator with Cat Advansys GET. This hammerless Cat system simplifies installation with integrated retention components and streamlines retrofitting with adapters that drop into the same space as K series.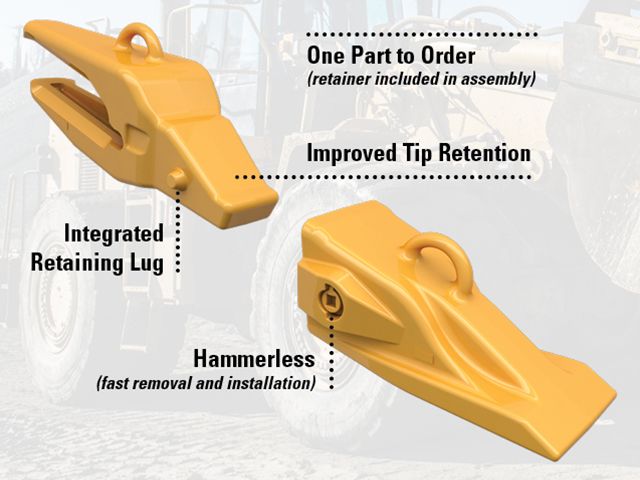 ---
CAT ADVANSYS FEATURES AND BENEFITS
Designed for the toughest jobs
Exclusive performance features such as tapered tip sides offer less drag and higher productivity.
New and optimized tip shapes put wear material where you need it most.
System Reliability
Stronger adapter noses for 50% stress reduction.
Improved adapter nose geometry extends adapter life.
Installation and Removal:
Retainer lock requires no special tools for quickest hammerless tip removal and installation.
---
MAINTENANCE AND SUPPORT
The most important part of any machine is its work tool.
Protect expensive machine components, reduce operating costs, and get the most out of your machine's performance. Proper selection of GET has a direct effect on the productivity, fuel consumption, and maintenance costs of your machine. Your Cat dealer can help you establish an effective management program that minimizes preventable problems.
Bucket Edges, Tips, and Adapters
Check for:
Cracks on base edges beside adapters and corner welds
Cracks on base edges on top and bottom of rear weld
Excessive wear on the bucket tips. Tips worn through on the bottom or cracked in the pocket area should be replaced.
Damage to the bucket tip adapters. Badly worn bottom straps that are worn into bottom cavity should be replaced.
Damaged or missing retainer pins. Tap lightly on each pin. If pin moves easily, replace the retainer.