Cat Starters and Alternators Deliver Power and Reliability
Starters and alternators are engineered as part of a balanced electrical system. Computer-aided design, stress simulation, environmental validation, and 100% testing help ensure Cat starters and alternators work in unison with the rest of your Caterpillar engine components.
Built to Meet Your Engine's Demands and Lower Your Costs through Remanufacturing
Starters crank your engine to starting RPM while alternators supply electrical power to operate electrical attachments and/or accessories. New and remanufactured Cat starters and alternators are built to work together to meet the demands of your specific engine and operating environment. 100% quality testing ensures maximum durability and engine starting ability which ultimately lowers your owning and operating costs.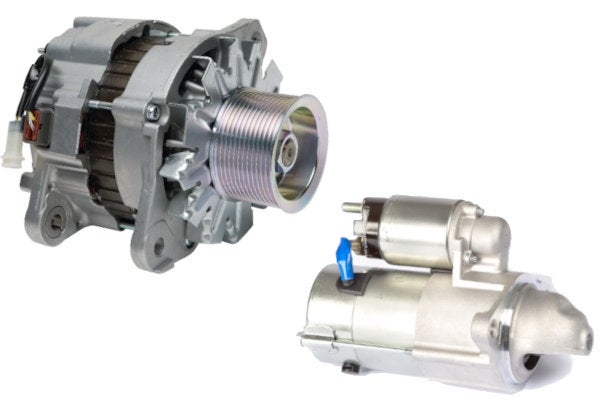 Contact us for more information on Cat starters and alternators and other parts.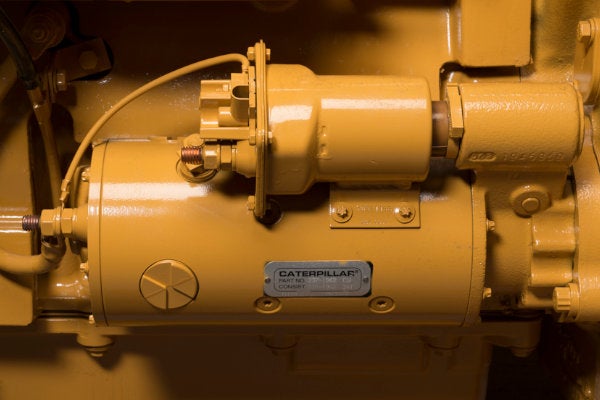 Cat Starters
Cat starters are designed specifically to handle the high current experienced during the cranking of Cat engines. They are built to work hard and deliver reliable performance even in tough, dirty environments. We carry a variety of Cat Starters, matching the torque required with your specific engine.
Cat starters with the PRELUB® system Cat starters with the PRELUB system help to prevent the wear caused by dry starts. This innovative starter combines an oil pump with the body of a conventional starter. The pump automatically draws engine oil from the sump and pressurizes the engine before allowing the starter to crank the engine. Cat starters with the PRELUB system can be easily retrofitted to your machine.
PRELUB® is a registered trademark of RPM Industries.
Positive-engagement shift mechanism ensures precise pinion-to-ring gear engagement.
Seamless one-piece solenoid case protects against corrosion.
Rotatable drive housing allows flexible mounting.
Brush holder provides constant spring pressure for even wear.
Cat Alternators
Cat alternators are divided into two categories: brush type and brushless. Brush type alternators use one-piece brushes and constant pressure springs for even brush wear. Brushless design alternators feature tighter air gap tolerances and superior sealing for longer life in dusty, dirty environments. Both Cat alternators are superior high-output charging systems that are quiet, compact, and lightweight.
Built-in electronic voltage regulators
High-efficiency cooling system
Brushless design for harsh environments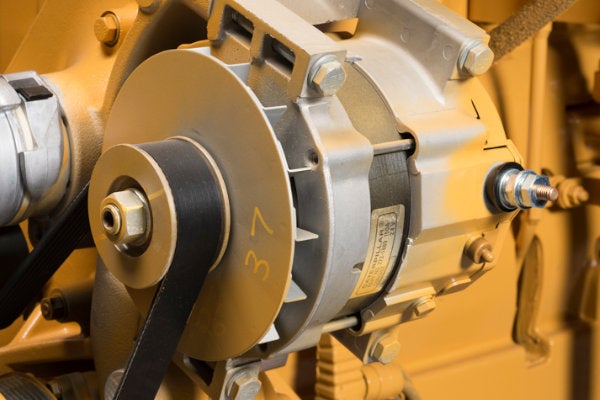 Did you know you can buy Cat starters and alternators on Parts.Cat.Com? Streamline your parts order today.
Cat Reman Starters and Alternators Reduce Downtime and Costs
When you need repairs, Cat reman starters and alternators get you back to work quickly, reliably, and affordably. Completely remanufactured to include the latest engineering updates, Cat reman starters and alternators provide same-as-new performance and long life.
Strict Remanufacturing Processes
Components are stripped down to the piece parts
New O-rings, seals, bushings, and bearings are installed
Rewound coils are sealed with new insulation
Heat sink compounds are replaced
All components that cannot be remanufactured to Caterpillar specifications are replaced with new parts
Each part is checked individually, and the finished product is performance-tested to ensure it meets like-new specifications.
Coverage and Availability
Cat reman starters and alternators are available off-the-shelf for nearly all Cat engine applications. Coverage includes Cat reman starters with the PRELUB system, as well as a wide amperage range of alternators (up to 145 amps).
Fully Warranted, Low-cost Repair Options
Cat reman starters and alternators are priced at 40-50% of the cost of new parts and provide same-as-new performance and long life. To prove it, Caterpillar backs reman starters and alternators with a same-as-new parts warranty.