PETERSON CAT HOSE TURNAROUND PROMISE:
We'll build your hose in less than 1 hour or you get 50% off list price!*
*Limit one per customer. Must bring in hose. 50% off list price for next day pick up.
A COMPANY YOU CAN COUNT ON
You rely on a dependable machine to accomplish work day in and day out. Make sure your hydraulic hoses are just as reliable as your machine's other components. Cat hydraulic hoses are designed to work harder for you, engineered from the factory and customized at hose shops across Peterson's territory for your machine.
A Longer History of Know-how to Help You
Today's Caterpillar hydraulic components are the result of decades of research into effectively and safely delivering high pressure fluids from pumps through valves to cylinders and hydraulic tools. Over this period of time, stretching from the 1960s to today, Caterpillar hydraulic hoses and couplings have made a name for themselves in the construction industry as high-quality parts ready to work harder, last longer, and provide consistent performance in your Cat machine for years to come.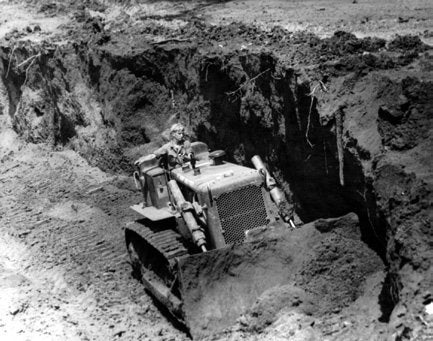 When the Cat Spiral Hose was introduced in 1968, there was no suitable alternative available for increasingly powerful Cat machines and their critical hydraulic systems. So Cat made its own, over time delivering more than a billion feet of hose to customers around the world. From mining and general construction to forestry and waste management, if you see a Caterpillar machine working in the field, it's almost certain it's getting the job done with the help of Caterpillar hoses.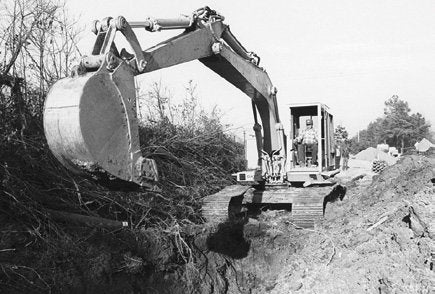 By the 1970s, Caterpillar was a leading manufacturer of high-pressure hose and coupling products, and the company's innovative Cat Spiral Hose had become the industry standard for high-pressure applications.
Higher Standards to Reassure You
For those times you need a replacement hose and coupling for your machine, you can expect the hoses we build on a daily basis are the same quality as the hoses on any new machine, and will delivery performance under pressure whenever the operator demands. We keep the original position, length, and routing of your old hose in mind in the design of a replacement, ensuring it'll perform as expected on the jobsite.
---
RUGGED DESIGN
A UNIQUE SYSTEM APPROACH
Peterson builds Cat hoses with the latest in Cat hose assembly tooling. From coupling crimpers to hose saws and measuring tools, we use the best equipment to ensure a quality product each build. Caterpillar hose building techniques, including even the crimping combination, are proprietary to its network of dealers, like Peterson, so you can rest assured that you're getting a product of superior quality each and every time you do business with us.
Cat Hydraulic Hose is Durable and Flexible
And the result of this process? A lineup of hoses available in low, medium, and high-pressure varieties, with a three-part layer system engineered to keep fluids in, contaminants out, and stress away!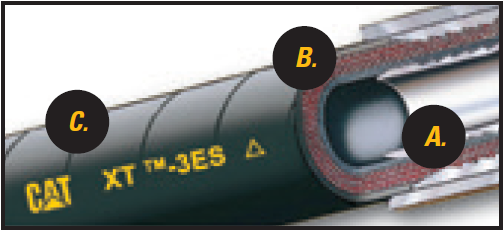 Engineered for Punishing Conditions
Robust, Multiple-Ply Construction Exceeds Industry Standards
A. The inner liner and cushion stock of the hose are made from a high-quality rubber formula proprietary to Caterpillar.
B. Spiral or braided wire reinforcement is added for strength to surpass pressure requirements.
C. Then a tough outer cover is applied to resist oil, weather and abrasion.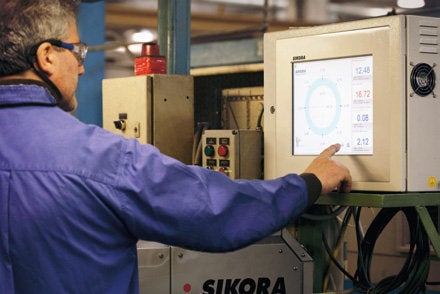 Proprietary Tooling and Software Ensure Exacting Assembly
Your Cat dealer uses Caterpillar designed tooling and industry-unique software to construct every hose assembly to exact OEM specifications. This exclusive tooling and software combination ensures precise crimps every time for enhanced safety and reliability.
Need a hose tougher than the rest? Choose Cat XT ToughGuard hose, a product whose outer shell has withstood two million abrasion tests and never failed. Cat XT ToughGuard hoses resist abrasion, chemicals, and weathering, eliminating the need for extra hose protection to prevent cuts and resulting leaks. Cat hoses are also designed to work in a variety of climate conditions including extreme cold. At half the SAE bend radius, a Cat hose maintains its extreme cold flexing ability and durability characteristics, a factor you're certain to count on in tough conditions! This flexibility also comes in handy for tight routing scenarios, situations where flexibility is the name of the game.
Formulated for Unmatched Flexibility
Cat hydraulic hoses are designed to work at half of the SAE bend radius without sacrificing extreme cold-temperature flex capability or durability. This enables easier routing in the tightest spaces.
Cat Couplings Ensure a Solid Connection
Hydraulic hoses are important in transferring high-pressure fluids between components, but just as important as the hose is the coupling between the fitting or valve and the hose. Peterson uses Cat couplings on all of our hose ends, one-piece components made of high-strength steel and designed to function leak-free even when exposed to a variety of stress and wear factors (corrosion, vibration, hose flex).
---
METICULOUS MANUFACTURING
HOSE ASSEMBLIES BUILT TO EXACT OEM SPECIFICATIONS
Our hydraulic hose assembly solutions are built to same-as-new specifications for Cat equipment. This means every new hose assembly perfectly matches the factory-installed version it is replacing.
Focused on Quality
Caterpillar uses cutting-edge machinery to produce their own hose products. Stringent quality and contamination control processes ensure consistently manufactured, high-quality components.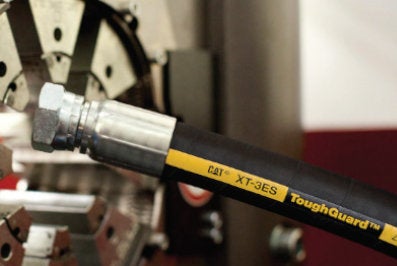 We apply statistical process control to verify that every batch of rubber has been mixed to our exact specifications.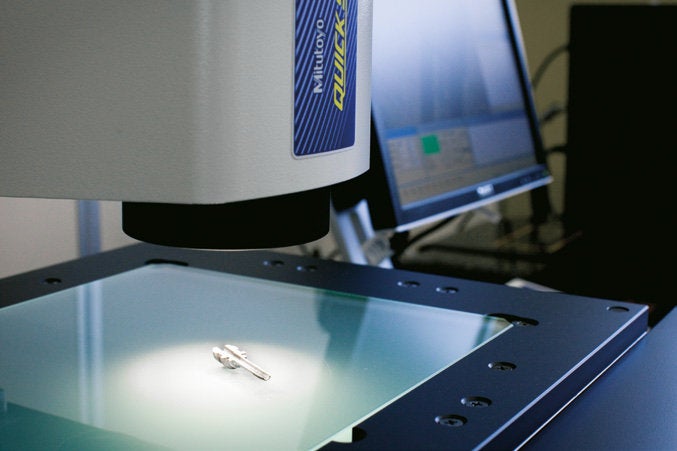 Our couplings are forged and machined from high tensile strength steel. Then they are heat treated and plated to ensure maximum durability and corrosion resistance.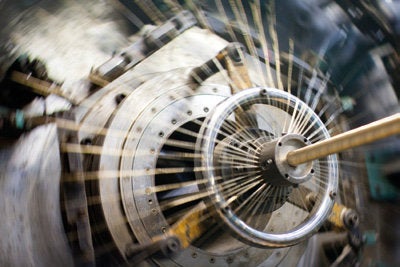 Before application, the hose is routed through a cooling chamber until it reaches a suitable temperature. This prevents perforation of the hose as the high tensile strength reinforcement wire is applied.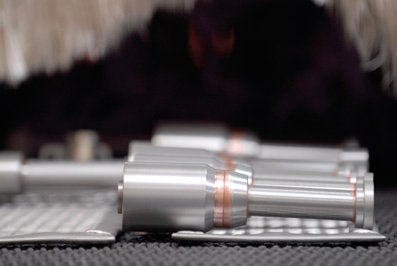 Cat hose is carefully monitored to ensure precise inner and outer diameter measurements are maintained. This provides precise coupling retention capability.
---
RIGOROUS TESTING
THE BEST IN THE INDUSTRY
Cat hydraulic hose and couplings are subjected to the most rigorous testing processes in the hose and coupling manufacturing industry.
An All-in-One Approach Produces Most Reliable Results
How can you be confident in the performance and reliability of your Cat hydraulic hoses and couplings? Count on Caterpillar's strenuous testing regiment, the toughest in the industry to deliver quality products that last longer than lower-priced competitive options. Cat hoses and couplings are tested together (since they will work together in the field) to ensure the system functions properly under high stress. For ToughGuard hoses, the most rugged of the Cat hose product line, test versions have withstood two million abrasion cycles without failure, beating the SAE standard of 39,000 by a long shot.
Comprehensive Analysis Verifies Critical Standards Are Met
Caterpillar tests its entire product line for burst resistance at 130% of normal operating pressure, one million times (double the SAE standard of 500,000 times). Burst resistance is tested even further by increasing pressures in the lines to four times of normal operating pressures, at which point, under completely unrealistic circumstances for proper equipment operation, hoses have been shown to fail. If you are using the right Cat hose for the job, bursting and leaks should be of little concern.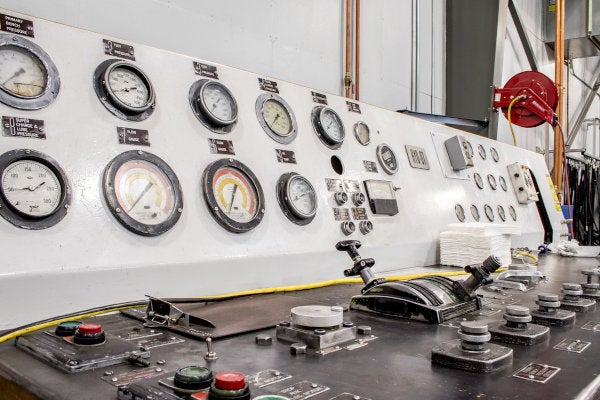 ---
UNMATCHED SUPPORT
THE KEY TO MAINTAINING MACHINE PRODUCTIVITY
Deciding on a brand for your hose replacement needs? Peterson hose technicians receive Caterpillar training on tooling, hose assembly techniques, routing standards, inspection, and contamination control. Our teams are the best in the industry at delivering a quality product build after build.
Solutions That Are Optimal for Your Entire Fleet
Mining, earthmoving, excavation, forestry and compact machines can all benefit from Cat hose and couplings. Our product line meets wide-ranging applications, from the channeling of high-pressure fluids to low-pressure applications, such as fuel or brake lines in any brand machine.
Unmatched Convenience
The Cat hose lineup is just as reliable, performing in every application from high-pressure connections in mining, forestry, and construction machines to low-pressure uses like fuel or brake lines. Even better, the Cat hose system is based on part numbers, so when the need arises for a replacement, your local Peterson hose shop can recreate the exact part on your machine with pinpoint accuracy. Call the hose shop directly with this number or scan the QR code on the hose (included on all Cat hoses built after 2013) to order a replacement from Parts.Cat.com. Either way, your hose should be ready for pickup when you arrive.
In-stock Components
For common hose builds, you can count on Peterson to have the parts in stock at the time of ordering to complete your build promptly, and for unique builds, we rely on the worldwide Cat parts network to deliver components quickly. If you need a hose, we'll get it built for you!
Cat Dealer Expertise
Your Cat dealer is equipped with proprietary tools and reference materials that are unmatched in the industry. From hose routing guides that eliminate potential for abrasion, to the ability to identify hydraulic-related concerns before failure through inspection of your machine, they are there to ensure your safety and machine dependability are always maintained.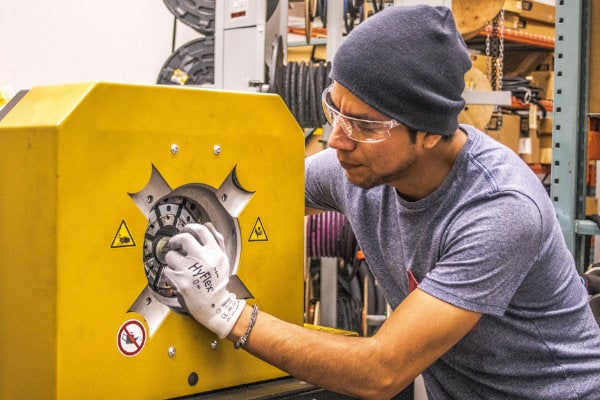 ---
SAFETY MINDSET
"SAFETY FIRST" APPROACH
Caterpillar is constantly developing and refining advanced technologies in order to assure the highest level of safety.
Rigorous Testing for Optimum Safety — The Best in the Industry
Cat hydraulic hose and couplings are subjected to the most rigorous testing process in the hose and coupling manufacturing industry.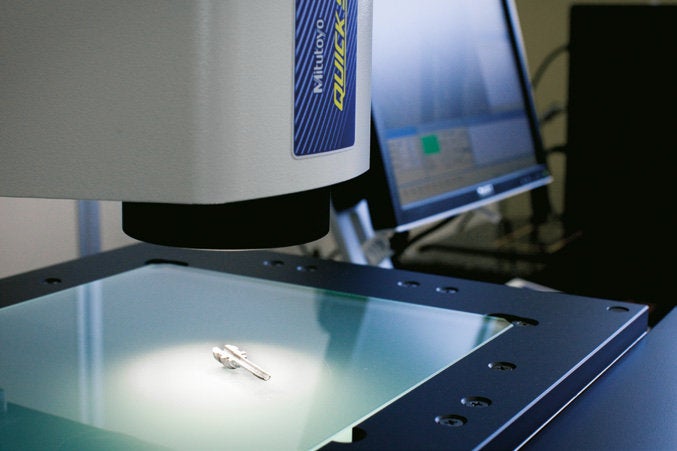 An All-in-one Approach Produces the Most Reliable Results
Every Cat hose and coupling combination is tested as a system – not as separate components – to ensure a perfect fit that yields maximum safety and dependability.
Comprehensive Analysis Verifies that Critical Standards Are Met or Exceeded
We use an array of measures to evaluate both raw materials and finished components. These include rubber compression and elongation testing; wire tensile-strength testing; hose impulse testing, burst pressure testing, temperature adaptability testing, abrasion testing, flexibility and diameter testing; and coupling salt-spray and metallurgical testing – all of which help ensure unparalleled hydraulics safety and dependability for your machines.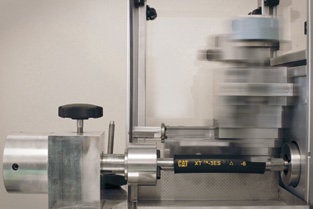 Abrasion is the #1 cause of hose failure: Cat ToughGuard™ hose, designed for severe abrasion applications, features a polyethylene cover that has surpassed two million cycles of abrasion testing without failure. Tested per ISO is 6945.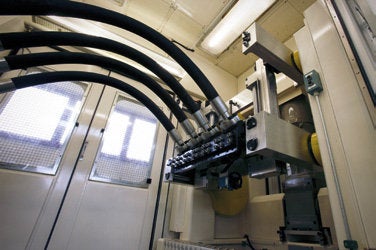 To simulate punishing conditions, Caterpillar impulse-tests hose assemblies at 2x the industry standard for impulse cycles.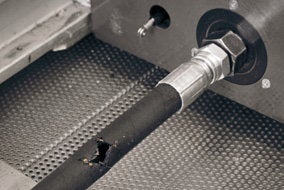 Cat hose assemblies are burst tested by applying pressure at a constant rate until it reaches a minimum burst pressure of four times the normal operating pressure.
Cat Standards' Compliance
No discussion of hydraulic hoses and couplings is complete without a mention of safety. As included earlier, Caterpillar's testing system pushes hoses and couplings far beyond normal limits to ensure they work reliably in traditional applications. These testing procedures include analyzing the reaction of hoses to abrasion, burst level pressures, stretching and compression, temperature extremes, flexing, and exposure to salt and corrosive materials. Cat hoses withstand these tests at the lab and out in the field, and they stand the test of time on machines around the world. Caterpillar machines are designed with their hose systems in mind, so when it comes time to replace your hoses, there's only one brand to consider. Choose the best for your machine: choose Cat hoses and couplings to get the job done!