Forestry Machines
Forestry Machines and Attachments by Application
No selection of forestry excavators offers you more than Caterpillar's expanded 500 series. Led by the industry-standard 568FM, 500 series of forest machines excel in a variety of logging applications from roadbuilder to processor, shovel logger, yoder, and log loader. And once you get to the millyard, trust Cat M-series wheel loaders to get your trucks unloaded and back to work in no time.
Weiler feller bunchers deliver the power and stability you need to cut trees safely, while Weiler's new S-series skidder lineup helps you get logs to the landing regardless of terrain.
---
Customer Testimonials
Loggers Explain why they Trust Peterson
As a West Coast logger, you work in some of the most challenging conditions in the world: Peterson has your back with the products you need, from first entry to extraction to landing to millyard.
---
Tony Leonardo
Leonardo Logging
Dustin DeAtley
Mineral Creek Logging
Jeremy Hart
Hart Custom Cutting
---
Forest Machines
Cat Log Loaders and Road Builders
The industry took notice when the Cat 568 was introduced back in 2011. This machine quickly proved itself as a reliable asset in the Western woods, moving logs in tough ground like no other machine can. Today, the 568 is joined by Cat's 538, 548, and 558 swing machines, which draw their design and features from the 568's success.
From shovel logging to truck loading to processing, you can depend on Cat 500-series forest machines to improve your productivity, reduce your downtime, and raise the bar on performance for your operation.
---
Feller Bunchers
Weiler Track Feller Bunchers
The Weiler B458 is a leveling machine for steeper terrain and excels in select or clear-cut logging. The B458 provide a leading combination of lift capacity, swing torque, and drawbar. Multi-function performance is achieved through dedicated pumps and optimized circuit configurations.
The B458 has an extended track roller frame option that includes two additional bottom rollers for a total of eleven, enhancing overall machine stability in steep terrain. In addition, a standard or heavy counterweight option is available for a variety of harvesting conditions. Unobstructed ground clearance enables travel over stumps, rocks, and other debris.
---
Skidders
Weiler Wheeled Skidders
Weiler's newly introduced S250, S350, and S450 skidders have productivity in their DNA. Featuring powerful Cat engines, reliable powershift transmissions, and locking front and rear differentials for those extra-tough ground conditions, these machines are ready for any challenge. Upgrade your fleet with a Weiler skidder!
---
Trucks for Forestry
From building logging roads to hauling timber to the mill, transporting heavy equipment from site to site, or simply hauling processed materials to end users, the forestry industry relies on commercial trucks to deliver the products needed for the world's markets. International's truck lineup offers a range of vehicles fitted to the needs of the forestry industry. From the rugged HX and HV to the fuel efficient LT, customers know they can count on an International truck to get the job done.
---
Processors
Processing heads cut trees to length for easier transport to the sawmill while removing excess bark and branches from the log. They can also fell trees, and in some cases (typically the category of head known as a grapple processor) can be used to stack logs or load trucks. Processing heads are available in fixed or dangle varieties. Dangle processors swing freely from the stick of the forestry machine while fixed heads are manually tilted for easier control. For smaller logs, and depending on the model of processor, more than one tree can be delimbed at a time.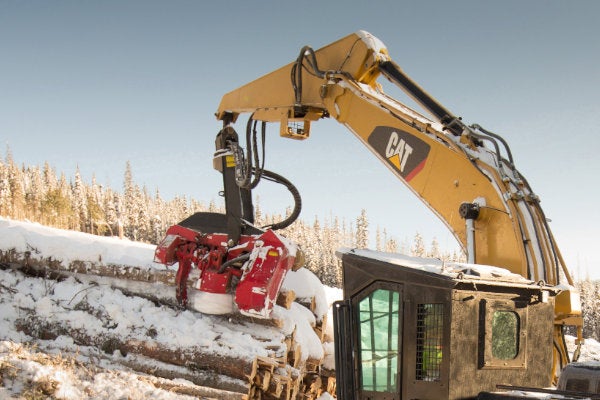 Mulchers
A mulcher turns stumps, small logs, branches, and brush into woodchips allowing natural decay to return them to the soil faster. Mulchers can be used for fuel management, right-of-way maintenance, invasive species clearing, property rehabilitation, and even tree felling (logs up to eight inches in diameter). Excavator-mounted units allow for reach into tough spots and safe access to slopes, while dozer/compact track loader units provide more power for quick work on flatter surfaces.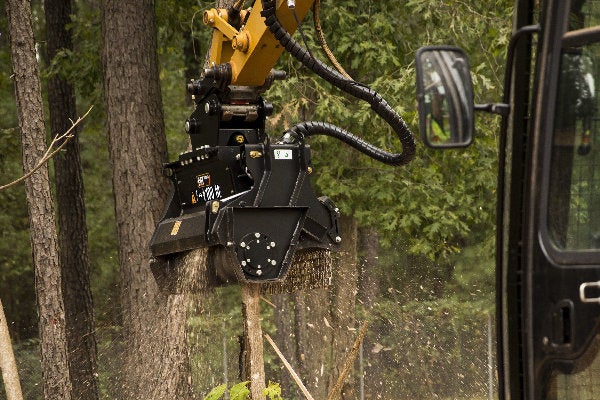 Saws
Feller bunchers are equipped with two main styles of heads: hotsaws and felling heads. A hotsaw is equipped with a continuously rotating disc that operates at high RPM. The weight of the disc and its row of carbide teeth (bolted to the saw at a right angle) ensure trees are cut quickly and effortlessly. As the tree is cut, a group of hydraulic arms grab the tree and lower it to the ground for processing or transport to the log deck via a skidder or yarder. Hotsaws can handle trees over two feet in diameter, and in smaller wood can grab trees in bunches due to independently controllable grab arms.
Felling heads are equipped with retracting bar saws like a processor, but the head itself is often designed more for shovel logging than simple cutting. Felling heads are increasingly common on self-leveling logging machines including those equipped for tethering. They allow an operator to cut, sort, and shovel wood while perched on a steep slope. Felling heads can handle timber close to and above three feet in diameter, making them an ideal choice to replace hand crews in rugged conditions.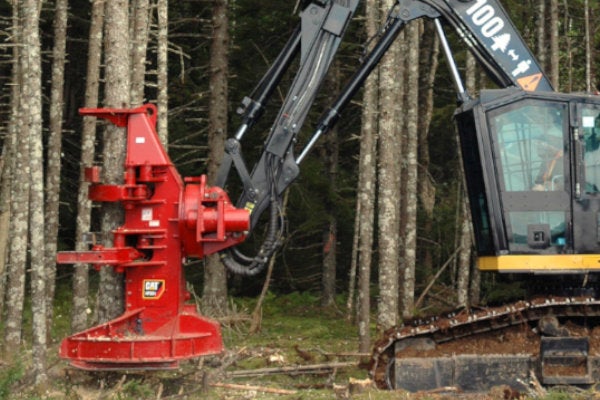 ---
Peterson TSK
The one-of-a-kind Peterson-built TSK offers improved stability, increased performance, and reduced engine noise over previous track skidder models. This machine was purpose-built for the woods, and offers excellent ground flotation with available LGP tracks, easy maneuverability, and an independent swing boom and large grapple, perfect for grabbing large timber in difficult to reach spots.
Special Services
Need a machine for steep slope logging? Peterson's Special Services division customizes feller bunchers for use with a cable assist system, and we offer customized boom and directional felling head packages for use in these challenging conditions.
Whatever your forestry needs, you can rely on the team at Peterson to deliver a machine that will work for you, and we'll back that machine up with the product support and parts you need to keep running all season long!
---
Locations:
We work where you are
Eugene
2300 Henderson Ave.
Eugene, OR 97403
541-302-9199
Redding
5100 Caterpillar Road
Redding, CA 96003
530-243-5410
Chico
425 Southgate Ave
Chico, CA 95928
530-343-1911
Fortuna
1700 Alamar Way
Fortuna, CA 95540
707-725-1888
North Bend
1570 Maple Street
North Bend, OR 97459
541-756-8708
Klamath Falls
1434 South 6th St.
Klamath Falls, OR
541-850-8658
Medford
2600 Biddle Road
Medford, OR 97504
541-282-8551
Redmond
3635 SW Airport Way
Redmond, OR 97756
541-548-8566
Longview
1205 Baltimore St.
Longview, WA 98632
360-423-5760
Salem
3850 Turner Rd. SE
Salem, OR 97302
541-850-8658
Hillsboro
5450 NE Five Oaks
Hillsboro, OR 97124
503-288-6411
Ukiah
3400 N State St.
Ukiaha, CA 95482
707-459-9006